Ref:
Date:
Location:
Photographer:
Ref:
Date:
Location:
Photographer:
Hidden Truth
Hello and welcome to my Hidden Truth Art Project.
For those who haven't seen my project, I ask people to anonymously tell me a truth, a lie or a secret, about themselves, to write this on a postcard, and post through one of the slots in my sculpture.
I'm always delighted with the response I get from participants in my project and I'm constantly asked if I have a favourite statement - to which I reply "Yours", because each one is valued, as it shows you believe in the project. My only regret is that I can't continue the conversation you start with me when you post a reply!
I started this project back in 2013 and have toured Dumfries and Galloway with her each year choosing locations around the region I thought would best suit the project. By far the most responses are always in cafes, where people have time to relax and ponder their reply. Some even revert to verse!
For example I've taken her to Designs in Castle Douglas, Loch Arthur Cafe at Bees Wing, to the Yellow Door Gallery on Queen Street in Dumfries, and even to Venice.
I only put on a sample of the replies, as I receive so many, but please feel free to buy one of my books with all the replies in, divided into four volumes. Go to 'Artists Book' on the left hand menu to order.
If anyone fails to specify which category their reply refers to, I've guessed, so apologies if I get it wrong!
This year my project centres around Gatehouse of Fleet and Wigtown Book Festival. Once again you all really seem to enjoy telling me things. Here are just a few so far this year;
Replies 2018
I wish I was as clever as I think I am..........Truth
We came here on our honeymoon......Truth
Once upon a time there was two kids. One was shy and quiet, the other was confident and slowish (still faster than the shy one) and the shy one challenged the confident one to a race and the confident one won. The end....Truth
I am in love! He doesn't know! No one knows!......Secret
I had vivid memories of my previous life when I was little, no one believed me but until today. I know my old name and address. I don't tell this to anyone now.....Truth
I have spots on my tongue....Secret
I once set my neighbour's garden bush alight after a failed attempt to let a sky lantern fly. I jumped over the fence, landed in a frog pond and have a scar on my shin to tell the tale. Don't play with sky lanterns....Secret
It is a strange thing to grow up and look back at the steps that got you where you are today. Especially when you look at the path others took and that seem better than yours. I went to school with Robbie Williams but I would not wish to have taken his path....Truth
I am a boy. Truth
I am a woman who has lived and loved for 50 years, and after all that time, I have finally found organic, authentic love. She is beautiful and she colours my world. Truth
Unicorns love chocolate and treasure……Secret
I know my Dad looks at child pornography and I think he may have abused me….Truth
A lightly salted potato is, I've discovered rather late, with or without a glass of wine, as fine as a well-aged cheese, if you've eased it into being, and out of the soil yourself….Truth
I saw a fairy in my Grandfathers farmhouse in Wigtownshire in 1940. Honest!....Truth
I sorely regret this but – sadly I had an affair with a Catholic Priest who then left and went to the Missions so no one found out. Thank God. Forgive me…..Secret
I have won the lottery and am now able to give up work and just read and write poetry for the rest of my life…..Truth ,crossed out….Lie
I have always loved sea-swimming and especially snorkeling. Contrary to popular belief the sea along Scotland's coast, especially the Solway coast, can be surprisingly warm. A trick I use on cool days is to select a place where the tide is rising onto sun warmed rocks. At every possible opportunity I do this naked…..Truth, Secret
It took 18 years of going to Kirkcudbright and back, a round trip of 120 miles or so, it cost a great deal of pain and 1000's of pounds, But I am the proud owner of a full body suit (Tattoo) S.T.S….Truth
I was a stand in for James Bond. As a result Diana Rig had my love child………Lie
I designed the original mini kilt for a competition judged by Mary Quant. She stole my design!….Truth
I dare myself to do outrageous things….Truth (I may be 50% gay)
I've never been single for more than 3 months and I've never been in love……Secret
I came in here expecting everything to be the same. A lot can happen in a year……Truth
I feel I would have made different life choices if I'd had the mental maturity I now have, when I was younger….Truth
I love my flamey red hair…Truth
I have 10700 photographs on Wikimedia and google image. I have 620 articles on Wikipedia. I am the 12th most prolific Wikipedia author…………………Truth
You can't beat a boiled egg on a walk…they're binding!.....Truth
I'm a relatively new arrival in the Stewartry, after spending the last three years with Australia's oldest travelling circus show. I perfected my tightrope walking and trapeze skills and I'm resting between assignments now, before heading to kill Devil Hills, North Carolina, next June….Secret
But now I know
And I don't want to believe it
Where are you now
That the precious years are gone……………………Truth
I plan to face my fears and grasp the nettle firmly!......Truth
I love Mum and Dad!..........Truth (Childs writing)
The girl with the long dark hair serving on Saturday afternoon is gorgeous….Truth
I love my Scottish life…….Truth
Kirsty Walk has been stalking me at the book festival…..is this newsworthy?.................Secret
When I was at primary school I hated an older boy so much I wanted to kill him. I tried once, when he was bullying a small younger boy. I threw a stone at him which cut him above the eye. He never annoyed me after that……..Truth
I'm hiding at Wigtown Book Festival pretending that my phone has died so that my Dad can't reach me. (I am aged 50)…………………………………………Lie
I am the parent of a young man with severe learning disabilities and autism. He is one of my favourite people on this planet…………………………………….Truth
Wigtown – Vienna – Wigtown. Wigtown is probably the best place to live in the world. Even better than Vienna……………………………………………Secret
I have the best husband and 3 beautiful sons, I meditate, saw countless councillors BUT I will NEVER get better from childhood abuse and current cultural sexism and misogyny – some days I feel it's killing me…..Truth
I am short, bald, fat and handsome….?Lie
My dog is less annoying than my husband, agreed by myself. (The husband, not the dog!)….Truth
Honesty is my GIFT and my WEAKNESS
I have traveled through time and space disguised as a middle aged tourist to study mankind and discover the finest tasting coffee in the universe…..Truth/lie/secret you decide!
As a former child I must declare I was born at a very early age…..Truth
I used to walk baby orangutans every Friday…..Truth
I made a horror film about PMT…..Truth
My fantasy boyfriend is an alien from the planet Zlib. His eyes (three of them) are the colour of ebony cinders and his hair sunbright yellow. He has runcible ears………Secret
I like my dog better than my cousin. Ha!......Lie
I hide my brother's things in a drawer under my bed!!! Shhh…………………………Secret
I run round stone circles naked!.....Lie (it was in my underwear!)
I broke a plant pot and hid it…soz Mum!..........Secret
I hate my life…….Truth/secret
I've never won a game of Exploding Kittens!...........Secret
I am afraid of death…………..Truth
I had a sleepover but hardly got any sleep because my friend snored all night, but I haven't told her…..Secret
I jumped off a mountain and I thought I was going to die…but thankfully the zip wire took me all the way down safely……………………..Truth
Replies from previous years
Happiest times are spent with the best of friends!....... Truth
My husband has no idea I plan to run away and live as a hermit once my youngest child (now 10 years) leaves home............. Secret
I wish I could do my life over again. .Truth
I sat down for my lunch today,
And this on the table lay.
So then the thought – what would I write?
A poem short, and so goodnight
I've bought an art gallery – a passion that none of my family knows about!.......... Secret
Within my workplace it is quite common for people to die (daily if not weekly) ........Truth
I'm a super hero at the weekends........... Secret
Sometimes I just want someone to look after me. ...............Truth
It is lovely when the sky is different colours. Jessica age 4
I am a surveyor with a meditation teacher who wants to get out. .............Truth
I lie to keep people happy and to make things look better and keep my son out of trouble. I steel. Why? I do not know. I hate myself afterwards. .......Truth
On Pancake Day my daughter said "My Dad is the best tosser in town"!............. Truth
I wanted to be a spy and travel all over the world....................Secret
Teachers hate holidays................... Lie
I actually wanted to vote 'YES' but didn't....................Truth
You've asked for truths and secrets
You've even asked for lies,
But how will you know the difference
If you can't see my eyes! .....................................................Truth
One day I hope to change the world for the better...................Truth
Always listen to your heart, because even though it's on your left side, it's always right. ..Truth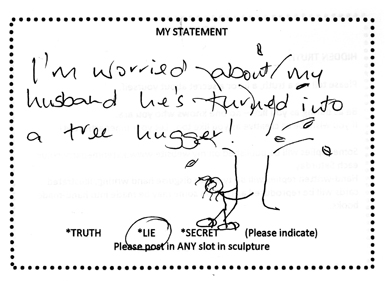 I love my Louise more than anything or anyone in the world…sssh…it feels good to write this. .........Truth
"The less I expect, the more I am given" ....Truth
So many secrets! My partner is autistic and no-one knows and we have not been intimate for 14 years!.... Secret
Somewhere between giving up and seeing how much more I can take........ Truth
Everyone's a cowboy if you look at then right. .....................Truth
I was born a man, now I am a kangaroo............ Secret
I still haven't found my personal legend. Secret
I am scared of the wind. Secret
I love my Dad. Truth
I kissed a girl and liked it. Secret
I prefer the company of my dogs more than most people! Truth
I separated from my husband a month ago and have only told 6 people. He hasn't told anyone. I'm still wearing my wedding ring because it's easier than answering questions I'm not sure I have the answers to yet. I feel like a coward for that. Secret
I used to be autistic. But through my OWN efforts I cured myself. I can now say "I cure autism". Truth
Being brave is the ability to face your fears. Secret
I once stuck someone's toothbrush up my bottom after he shaved my eyebrows off. Truth
I ran away from boarding school to join the French Foreign Legion but in Marseille met a French girl and changed my mind. Truth
To have, to hold, to live, to die,
Why say these words if a lie,
Love is for those who care,
For those who only want to share. Truth
I sleep in a wetsuit. Secret
I am not human. The mothership left me here. Truth
My crowbar is my best friend. Secret
I fell in love with my cousin when we were 10 years old and 44 years later we became a couple. (Long courtship!). Truth
Quote of the day "I should wear morph suits more often". Truth
I have two brains…….but forgot to bring them! Truth
I wish my husband still wanted to have sex with me. Secret
I live my life afraid of everything. Truth
I am a caring person who likes to help people. Truth
I am beautiful, talented and have three boobs. Lie
I dream of having sex with Poldark. Secret
I have always wanted lots of children, but I'm scared that I will upset my daughter if I have more. Secret
Woops! Sorry – but I drove out of a tight car park space and managed to scrape and flatten the whole of another car. I didn't stop and am forever sorry! Truth/secret
I breathe fire!
My wings are invisible!!
I live in the real world!!!
With you 'normal people'
Truth
I'm a man. No one knows. Shhh. Secret
I don't know if I have any secrets! Truth
I feed my neighbours cats in the hope they will one day choose to live with me. Secret
My creativity is suppressed by my acute shyness. I have become a master of subtlety but nobody seems to notice. Truth
My husband loves me to dress up for sex. Secret
Far too long I've carried my boss's weight. No one knows just how ineffective she is. That's all about to change. They'll never see me coming. Truth/secret
Everybody thinks I'm going away on holiday with a friend in a few weeks' time. What they don't know is that I'm actually running away for a while with my lover. Truth/lie crossed out.
I miss my daughter so much I hope one day soon we will be close, and all the scars will be healed. Truth
I love the smell of fresh terradactil blood in the evening. I whip out my vodka and flick it into the eye holes of a Jedi. He loves it when the cake screams his name, so I attach the dinosaur wings to his force-based feet. I love the smell of Jedi feet in the morning. Lie
Friends are the family you pick yourself. Thank God because with a family like mine I need friends. Truth
Sometimes writing your problems to a stranger helps a lot. I have depression and fight with self-harm. This has helped. Truth
I don't know if I can survive the death of my dog. Secret
My other card tells the truth. Lie
For all the replies please see my 'Artist's Book' online shopping section.
I am deeply in love for the first time in my life – and I've just turned 60...................Truth
When I look back over the decades of my life that I remember, I find it too easy to recall events and behaviour about which I feel negative, and much too hard to recall things which I celebrate. Does the bad really outweigh the good?..........................Truth/secret
I'm a pole dancer by night………………………Lie
I am a happily married woman and mother of 3 – and I like having internet sex with strange men………Secret
I have been in love with the same man for 20 years, but he doesn't know it. This week he contacted me to say he would love to see me……….Truth
I had to get a colonic irrigation to clear my gambling debts I had accumulated over a summer in London……….Secret
When country dancing I suffer stress incontinence……….Truth/Secret
I am a born again virgin and I love it………..Truth